One year ago today…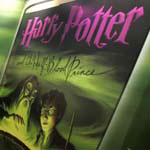 Jul 21, 2008
Uncategorized
A year ago today, most of us were gulping down pages of Deathly Hallows. Some of us had waited 10 years for it, and though we were sad that the end was nigh we were too excited to fput down the book. We wondered what Harry's end meant for us: for us as fans, as a fandom, as friends.
So what's happened over the past year? We've discovered the fear was unfounded – we've grown, not outgrown. We're still discussing, arguing, enjoying. We still have plenty to talk about, and most of it is still about Snape. 😉 There's a theme park, three ( ! ) movies, LeakyCon, and who-knows-what else on the way. Some of us have moved on to other things, other series, other interests, other pars of our lives; some of us are just as engrossed as we always were. But all of us know the Potter fandom still has a ton of life and is still a part of our lives.
A year gone, so fast – where will we be next year?
Please use the thread below, if you wish, to reminisce about your Deathly Hallows experiences.