EA Remains Undecided on HBP Video Game Release Date Change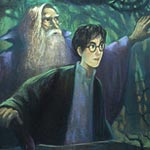 Aug 18, 2008
Uncategorized
Electronic Arts, the makers of the Harry Potter video games, have confirmed directly to TLC that the company is still in the process of re-evaluating a possible new release date for the "Half-Blood Prince" game, despite the move by WB to postpone the movie until July 17 of next year. An official statement from EA reads: "We are making a great game that Harry Potter fans will really enjoy—we are evaluating the impact of the movie date change." The release date for the HBP video game still reads November 13, 2008 on the official website, and we will update should there be any further developments with this matter.
There has been rampant speculation of course that the game would be delayed until next year with the release of the movie, given the previous statements from EA that the game closely mirrors the events seen in the HBP film. IGN had speculated on the potential move by EA, noting the company "now faces two hurdles if it still intends to ship Half-Blood Prince this November. First, it'll be a game without a movie, a licensing faux pas that software publishers try to avoid at all costs. And second, EA's title may feature content from the movie that the publisher could be contractually obligated to keep secret until the film itself debuts, thereby forcing the software giant to remove the content or sit tight with its Potter games until next July."
In case you missed it due to all the outcry over the HBP movie release date change, be sure to check out our video galleries for the second trailer for the game, and our image galleries for stills from the video game.