Phelps Twins Talk Making Movies, Video Games in New Interview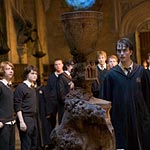 Aug 27, 2008
Uncategorized
James and Oliver Phelps have given a new interview where the brothers discuss the Harry Potter films and video games. Recorded at the recent games convention in Germany, the twins reflect that it was almost eight years ago that they auditioned for the parts of Fred and George Weasley and have remained with the series ever since. They also address recording their parts for the Harry Potter and the Half-Blood Prince video game, and note that in this game, the overall plot of the series becomes more apparent. Update: We now have the interview here in our galleries along with video of the twins previewing the game that we reported on previously.
For now, the "Harry Potter and the Half-Blood Prince" video game from EA still has a November 13, 2008 release date.
Thanks for the link Terry!