Tom Felton to Play for Soccer Aid 2008 Charity Game on Sunday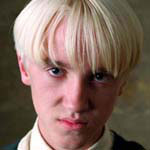 Sep 05, 2008
Uncategorized
Actor Tom Felton, who portrays the character of Draco Malfoy in the Harry Potter films, will be participating in Soccer Aid 2008, a charitable sporting event in support of UNICEF on September 7th. Soccer Aid 2008 will take place at Wembley Stadium in London, England and feature a soccer match between teams of well-known athletes and celebrities playing to raise funds and awareness for UNICEF, which aims to protect, help, and support children around the world. Mr. Felton will be part of the England team which includes such other celebrities and athletes as UK footballer Jamie Redknapp, television presenter Ben Shephard, and singers Craig David and Gareth Gates. A small photo gallery on the website features Tom, along with a number of his fellow players, preparing for the upcoming match. More images of Tom with his team cab be found on the England Squad section of the website.
Tickets for the match are still currently available and can be purchased right here. Those interested can get involved in Soccer Aid 2008 and donate by clicking this link for more information. Soccer Aid 2008 will be broadcast live from Wembley Stadium on UK television network ITV1 at 6pm local time on Sunday, September 7th.
Thanks to Wendy for mailing.