Contest to New York City Premiere of HBP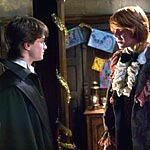 Sep 15, 2008
Uncategorized
Details magazine has launched a new contest to win a trip for two to the New York City premiere of Harry Potter and the Half-Blood Prince next summer. Previously it had been thought the premiere of the film was to be in Los Angeles, California. However, with the move in release date to July 17 of next year, we are uncertain if this is to be the main premiere of the sixth Harry Potter film here in the States, or if one in LA is still on the agenda. More on that when we get it.
Winners of this new contest, entry form here, will win a three-day, two night trip to NYC, with round trip airfare and two night hotel accommodations, along with the special VIP tickets for two to the premiere of HBP. This contest is open to legal residents of the US, ages 18 years and older, and runs now until October 8, 2008. Good Luck!
Thanks to UHP for the link.