PotterCast 169: The Cat's Meow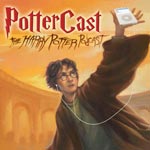 Oct 13, 2008
Uncategorized

We have for you tonight the 169th episode of PotterCast, our Harry Potter podcast for your audible enjoyment. This week, the show kicks off with the latest in Harry Potter news with Sue, including news on charitable contributions from Alan Rickman and Robbie Coltrane, Tom Felton previews from a new TV series, Chris Rankin on his character in "Deathly Hallows," Ralph Fiennes on Lord Voldemort, and the "Half-Blood Prince" book reaching the number one spot on Amazon.com's UK All Time Best Selling list. Bit-by-Bit then takes on Chapter 14 of "Harry Potter and the Deathly Hallows" which deals with the Trio's first moments in the forest after the hasty Ministry apparation. Next, our own Sue Upton sits down with our own Melissa Anelli for the first of a two part interview on her upcoming book, "Harry, A History." The interview features Melissa discussing her book in great detail , the history of the Harry Potter world, Melissa's own experience in the fandom, the community as a whole, and so much more. This episode then wraps up with the latest on Moochka's wizard rock band, and Melissa's Avon Walk for breast cancer, and Witches Who Wrock on iTunes. To listen, just hit the "Play" button on the right side of the page (–>), or use iTunes, or direct download.
"The Cat's Meow"
– Podcasting from the skies.
– Instruction manual on cat training.
– Thoughts on Percy and Voldemort.
– Dawlish is a Frat Boy.
– A Twinkie with legs.
– Sue interviews our own Melissa.
– Crooks and the Shanks.
– Breast Cancer wrapup and a taxi cab.
RT: 80:08
Producer: John Noe
Editors: Stede Bonnett and Andrew Garner
LeakyCon 2009: A Harry Potter Conference in Boston
"Harry, A History" Website
Podcast Alley
Digg
Direct download (37 MB).
Direct download low-bandwidth (9 MB).
Remember you don't need an iPod to listen. Listen easily on iTunes, which you can download and install here, by clicking here to listen, or you can just use the streaming Flash player at PotterCast.com or just on the right side of this page. Discussion of the PotterCast is right here. Enjoy!