Dan Radcliffe Talks Epilogue of "Deathly Hallows" Movie and more on Inside Actors Studio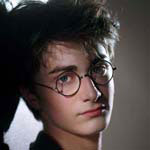 Oct 16, 2008
Uncategorized
As readers will remember, a few weeks back we first told you that actor Dan Radcliffe (Harry Potter) would be a guest on the Bravo channel show "Inside the Actors Studio" for their new season. The recording of the program took place early last week at Pace University,
and the first snippets from the interview are starting to appear
online via a new article from The Pace Press newspaper. Among the many topics discussed with interviewer James Lipton, Mr.
Radcliffe briefly mentions the Epilogue in "Harry Potter and the
Deathly Hallows" in regards to actors Rupert Grint and Emma Watson
portraying characters Ron Weasley and Hermione Granger in the film
adaptation. He says: "It's going to be a source of entertainment to
see Ron and Hermione together."
In addition to this, Mr. Radcliffe speaks further on the Harry Potter
films and his experience working with the cast and crew. When speaking
of the "Harry Potter and the Prisoner of Azkaban" film, he remembers during the interview
that director Alfonso Cuaron was able to push him to his limits when
acting. He says of Mr. Cuaron's directing style:
"You want somebody you can suggest things to, not someone you're
intimidated by. You also want somebody who will turn to you after a
take and say, 'That was not very good at all.' That's how you know you
can trust his judgment."
Mr.
Radcliffe continues, speaking on his childhood and what brought him
into acting after he describes himself as being "crap at everything."
When asked if, as a child, he lived through his imagination, Radcliffe
replied: "Yes, and I still do. I have
this fascination with the world. I like to observe weird things like
how a door closes, or the grates on a subway platform." Mr. Radcliffe
also feels he shares a few characteristics with the character of Harry
Potter, including a "innate curiosity about the world¦" and, he says,
"We
have very good friends too."
Finally, Mr. Radcliffe's performance in the Peter Shaffer play "Equus"
leads to talk of his preparation for the physically demanding role, the
psychological aspects of the story, and his experiences with the
American audiences. Of the differences between the UK and Stateside
audiences, he is quoted as saying: "[New York audiences] are amazing.
They pick up on everything and are more generous."
As we've reported many times on Leaky, "Equus" currently runs through February 8, 2009 at the Broadhurst Theatre in New York City. A limited number of tickets are still available and can be purchased via this link. More information the play and performances can be found on the official "Equus" website.