"The Tales of Beedle the Bard" to be Published in Braille, 23 Foreign Language editions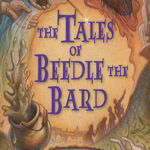 Oct 22, 2008
Uncategorized
A quick update today regarding the upcoming publication of the new book from J.K. Rowling. As noted by the Bookseller and now seen on the Children's High Level website, a press release indicates that The Tales of Beedle the Bard will be published in Braille "produced in partnership with RNIB (Royal National Institute of Blind People) in the UK and the National Braille Press in the USA." In addition to the three editions (US,UK, special edition from Amazon) published in the English language, the book will be released in 23 foreign language publications as listed below:
France, Germany, Netherlands, Italy, Korea, Poland, Slovakia, Taiwan, Czech, Brazil, Dennmark, Portugal, Norway, Russia, Israel, Spain (Catalan), Hungary, Greece, Spain/ Latin America, China, Japan, Vietnam, and Finland.
A reminder too that on December 4 starting at 4pm, J.K. Rowling will be holding a special tea party release event for 250 children. Several contests to attend this event in Edinburgh, Scotland are now or soon will be under way. To enter the essay contest from Scholastic which is now open, click here; Amazon and UK publishers Bloomsbury are expected to open their contests shortly.
Again, two of the original handwritten copies of The Tales of Beedle the Bard will be on display to the public, one here in the US at the New York Public Library, the second at the National Library of Scotland. On Dec 3, it has been announced now that Barry Cunningham, JKR's first editor on the series, will be holding a press preview event highlighting his handwritten copy of Beedle the Bard that he has lent for exhibition, Scholastic editor Arthur Levine will also be holding his press event the same day in New York. Both copies of the books will be on display at the libraries from the time of the release to January 4, 2009. If you are attending either of these showings, or are lucky enough to win a trip to the release party, please send in your reports and photos and we will post them.
As first referenced in Harry Potter and the Deathly Hallows, The Tales of Beedle the Bard will be released December 4 and contain five stories, along with new commentary and information written by the late Professor Albus Dumbledore. The five tales contained in this new book are ˜The Fountain of Fair Fortune', ˜The Warlock's Hairy Heart', ˜The Tale
of the Three Brothers', ˜The Wizard and the Hopping Pot' and ˜Babbitty
Rabbitty and her Cackling Stump.' All proceeds from the sale of the new book will benefit the Children's High Level group charity. Pre-orders for the book are available here in our Cauldron Shop: Standard, Collector's edition, UK Standard.