PotterCast 170: Accio Lunch!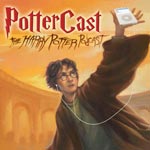 Oct 24, 2008
Uncategorized
We have for you tonight the latest episode of PotterCast, our Harry Potter podcast. In the 170th edition of the show, we update you on the little redesign Leaky has seen over the past week, as well as bring you the latest news including: Emma's Flare Magazine photo spread, new Harry Potter yarn with sock patterns, new images of Potter merchandise, charitable contributions by Alan Rickman and Robbie Coltrane, and Dan Radcliffe's appearance on Inside the Actors Studio. We also have a bit of a special announcement for the upcoming holiday season. A new installment of Bit-by-Bit follows with Chapter Fifteen of "Deathly Hallows" and all it contains. The second part of Sue's interview with our own Melissa regarding her upcoming book, "Harry, A History' is next on the show. This part of the interview features a discussion on the various legal situations in the fandom, the many people Melissa interviewed for her book, wizard rock, and so much more. Finally, we wrap up with talk of Melissa's first book signing at the Borders at Columbus Circle in New York City, the PotterCasters Vlog, and some doodles from Frak. To listen, just hit the "Play" button on the right side of the
page (–>), or use iTunes, or direct download.
"Accio Lunch!"
– New Leaky website design problems will be fixed soon.
– New HP products.
– Dumbledore's thick woolen socks and Harry Potter Yarn!
– Kryptonite cave.
– LotR?
– Melissa speaks more about her book, "Harry, A History."
– PotterCast vlogs!
RT: 79:16
Producer: John Noe
Editing: Stede Bonnett, Andrew Garner
LeakyCon 2009: A Harry Potter Conference in Boston
"Harry, A History" Website
Podcast Alley
Digg
Direct download (36 MB).
Direct download low-bandwidth (9 MB).
Remember you don't need an iPod to listen. Listen easily on iTunes, which you can download and install here, by clicking here to listen, or you can just use the streaming Flash player at PotterCast.com or just on the right side of this page. Discussion of the PotterCast is right here. Enjoy!