Harry Potter Conventions Reminder: Registrations Open for Leaky Con 2009, Azkatraz 2009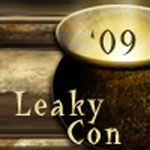 Oct 25, 2008
Uncategorized
As the year begins to draw to an end, we've gotten many owls from those asking about Harry Potter gatherings due to be held next year, and so here is a reminder of two of the big events due in 2009.
First a reminder that our very first convention, Leaky Con 2009 will be held next May 21- 24, 2009 in Boston, Massachusetts. With this celebration of the Harry Potter series and the Harry Potter fandom, we also will aid two charities near and dear to us here at Leaky: Book Aid International and HP Alliance. Online Registration is indeed open to this event via this link, (and might make a great holiday gift!), with the $185 price including unlimited access to all of our formal, informal, and youth
programming (for our younger attendees) as well as both the opening and
closing feasts and Ball. Hotel reservations also open, information available here. In addition, we now have our parent pack information available, which you can download here (pdf) and permission slip here (pdf) for those under 18 interested in attending the event. Finally, do be sure to head on over to our Leaky Con section of the forum for more. Hope to see you in Boston!
Also, a second Harry Potter conference will occurr later this summer: Azkatraz 2009, A Harry Potter symposium due to take place July 18-21 in San Francisco, California. Registration for that event is now open, with details on that available via this link.
Admission to the HPEF event will include four days of activities and programming, including the Podcasts, our
Pajama Party, the Prison Break Ball, our Welcoming and Leaving Feasts,
the History of Wizarding Fashion Show, and more. In a departure from
past years, breakfast is not included but will be part of some special
programming workshops and presentations. For the breakfast event, the presenter will be Susan Gunelius, author of Harry Potter: the Story of a Global Business Phenomenon. As noted on their Live Journal, one package, a special Merlin's Circle registration is $300, and will only be available until May 31, 2009. Basic registration is currently $145 USD. Also be sure to check out the forums for more on hotel reservations for the event.