PotterCast 170.5: Leaky Trailer MiniShow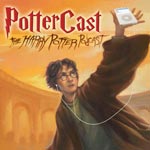 Oct 26, 2008
As TLC first reported this morning, the International Teaser Trailer for the "Harry Potter and the Half-Blood Prince" film made its way online and contains an abundance of new footage from the upcoming sixth film. The brand new trailer can be seen in our Video Galleries courtesy of TrailerAddict.com as well as on our YouTube channel. This afternoon we have for you a mini-episode of PotterCast, our Harry Potter podcast, containing the reactions from the PotterCast quartet. Join Melissa, Sue, John, and Frak as they discuss this ninety-two second trailer in great detail; focusing on the new scenes contained in the trailer, the moments with Harry and Dumbledore in the cave, the attack on the Burrow, Ron and Lavendar, and much more. We also call a number of PotterCast listeners for their opinions and favorite moments from the trailer. To listen, just hit the "Play" button on the right
side of the
page (–>), or use iTunes, or direct download.
"Leaky Trailer MiniShow"
– Serious Dumbledore.
– Cloud of Fire.
– McGonagall's wand.
– Lines we love.
– PotterCast calls out for fan opinions.
RT: 30:10
Producer: John Noe
LeakyCon 2009: A Harry Potter Conference in Boston
"Harry, A History" Website
Podcast Alley
Digg
Direct download (14 MB).
Direct download low-bandwidth (9 MB).
Remember you don't need an iPod to listen. Listen easily on iTunes, which you can download and install here, by clicking here to listen, or you can just use the streaming Flash player at PotterCast.com or just on the right side of this page. Discussion of the PotterCast is right here. Enjoy!