Video Interview: Robbie Coltrane Talks Flying Bike Scene for "Deathly Hallows"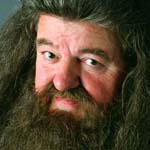 Oct 28, 2008
Uncategorized
Actor Robbie Coltrane (Hagrid) has given a few new interviews while attending the London Film Festival for the screening of his latest movie, The Brothers Bloom. Empire Online has a brief video interview at this festival where he briefly mentions the upcoming Harry Potter and the Deathly Hallows movies. In the interview (approx 2:42 in) reflects on completing the series, and also says he has some fight scenes coming up, and is looking forward to his stunt scene on the flying bike, a Triumph 500. Please note at the beginning of the video you can see a short clip with actor Ralph Fiennes (Lord Voldemort) where he discusses some of the many films and great directors he has worked with in his career.
A print interview has also surfaced with Robbie Coltrane where he addresses the filming schedule for the two Deathly Hallows films. Speaking with the BBC, Robbie Coltrane confirmed again that filming begins in February of next year and that "There's going to be downtime between film one and two. You know,
they're shooting it in two parts, so there'll be a week or two in the
middle." The piece continued:
Each Harry Potter film seems to get bigger and bigger.
Robbie Coltrane: They were always written as another year in the children's lives and they're 17 now of course. So life has changed for them.

Romance is in the air. The threats get more and more threatening
as his powers and knowledge and all of their powers and magic get
stronger. They have to up the anti. The books are like that, that's the
way they're written.