Mamma Mia! Harry Potter No Longer Top Box Office Record Holder in UK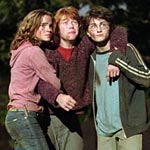 Oct 31, 2008
Uncategorized
New figures released today show that Mamma Mia has now become the highest-grossing British film at the UK box office, taking over the spot long held by Harry Potter and the Philosopher's Stone film. According to the BBC, after 16 weeks of release the film has taken in £67.2m (British Pounds), beating Sorcerer's/Philosopher's record earning £66.1m.
Of the Mamma Mia film, the BBC states "Sing-along versions of the film in cinemas have also helped boost the film's success.
"What is interesting is the speed at which it has gotten to this
level," David Kosse, president of Universal Pictures International told
industry paper Screen International.We are ahead of Harry Potter and continue to be ahead of Titanic at this stage, and we think it still has some life in it.
"One driver is the multiple viewings with people going back to
see it again and again. It really is happening on a scale that we
haven't seen before."
The Harry Potter films still hold many spots on the list as noted below:
class="sih">
TOP BRITISH FILMS AT UK BOX OFFICE
1. Mamma Mia! – £67.2m
class="bull">2. Harry Potter and the Philosopher's Stone – £61.1m
class="bull">3. Harry Potter and the Chamber of Secrets – £54.8
class="bull">4. The Full Monty – £52.2m
class="bull">5. Harry Potter and the Order of the Phoenix – £49.4m
class="bull">6. Harry Potter and the Goblet of Fire – £48.8m
class="bull">7. Harry Potter and the Prisoner of Azkaban – £46.1m
class="bull">8. Bridget Jones's Diary – £42m
class="bull">9. Love Actually – £36.9m
class="bull">10. Bridget Jones: Edge of Reason – £36m