New Photos of Emma Watson and More from WB Still Photographer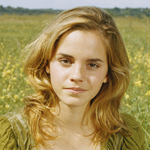 Oct 31, 2008
Uncategorized
Over the years a photographer named Jaap Buitendijk has done work for various movie campaigns, including the Harry Potter films. Mr. Buitendijk has now updated his personal website with a few photos from Half-Blood Prince, including a new one of Ron and Harry walking in the corridors of Hogwarts.
Also, earlier this year actress Emma Watson had pictures taken by this same photographer, several which appeared on her official website, with more now available, one new, as well as these.
Thanks to UHP for emailing about the Emma photo.