PotterCast 171: This is Halloween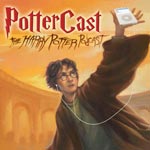 Oct 31, 2008
First, have you checked out and subscribed to PotterCast's new daily vlogs? Second:: As Halloween is now upon us, we have a treat for you in the form of a brand new episode of PotterCast, our Harry Potter podcast. Our 171st episode kicks off with Sue's News, which includes Scholastic's interviews with a few key people behind the Harry Potter novels, more theme park rumors, a marketing professor's report on the readers of Harry Potter, "Beedle the Bard" publication news, confirmation of two of the people who received hand-written copies, and news on the release plans. This is followed by the latest installment of Bit-by-Bit, which closes out Chapter Fifteen of "Harry Potter and the Deathly Hallows" with Ron's exit. We then have for you a Halloween edition of Canon Conclundrums. Ghosts are theme for this week's discussion, for the PotterCasters talk about the ghosts of Hogwarts Castle and how they came to be. Finally, the show wraps up with the Quartet talking about Melissa's book shipping early, Moochka at Halloween, Sue gives John a sock and sends him on his way, more on the PotterCast vlogs, and more. To listen, just hit the "Play" button on the right
side of the
page (–>), or use iTunes, or direct download.
"This is Halloween"
Actual news.
The Trio lives!
Chapter 15.
Phineus lending a helping hand.
Ron's struggle with the locket.
"…He's dead."
How house ghosts become house ghosts.
Mummy costume for Moochka?
Go-go gadget wand!
RT: 81:52
Producer: John Noe
Editors: Stede Bonnett, Andrew Garner
LeakyCon 2009: A Harry Potter Conference in Boston
"Harry, A History" Website
Podcast Alley
Digg
Direct download (24 MB).
Direct download low-bandwidth (10 MB).
Remember you don't need an iPod to listen. Listen easily on iTunes, which you can download and install here, by clicking here to listen, or you can just use the streaming Flash player at PotterCast.com or just on the right side of this page. Discussion of the PotterCast is right here. Enjoy!