Borders in London to Hold Midnight Release Party for "Beedle the Bard," Waterstone's Planning Day Release Events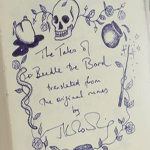 Nov 10, 2008
Uncategorized
TLC has received word of what we believe is the first midnight release parties being planned for The Tales of Beedle the Bard. Thanks to TLC reader David we now know of two parties being held at book stores in the UK. Borders at Charing Cross Road (near and dear to us here at TLC as it is also the location of the Leaky Cauldron in London) is set to hold a special midnight release party for the new book by J.K. Rowling due out December 4. Information posted on the Borders website reads as follows:
Join us in store on Wednesday 3rd December for events Harry Potter
style, taking us right up to the release at 1 minute past midnight on
Thursday 4th December. Be the first to own the long anticipated release
from J.K. Rowling.
Additional London events are being held (Watford, Islington, Kingston) as is one by the London Colney Borders, where the site has a bit more on things planned for that event.
J.K. Rowling 'Tales of Beedle the Bard' MIDNIGHT PARTY! 12:01 pm, Thu 4th Dec 2008
Harry Potter author J.K. Rowling returns with her highly anticipated
new novel 'The Tales of Beedle the Bard'. Join us here at Borders
London Colney for the midnight launch party and be one of the first to
get your copy. There will be all kinds of activities on the night
leading up to the release of the book at 1 minute past midnight.
Reserve your copy for just £2.00 and get Jonathan Stroud's 'The Amulet
of Samarkand' and Justin Somper's 'Vampirates: Demons of the Ocean' for
FREE when collecting 'Tales of Beedle the Bard'.Pre-order before
21/11/08.
Dublin, Ireland will also see a midnight release party for The Tales of Beedle the Bard, as the Borders store there says "We'll have Face Painting, Fancy Dress prizes, Magic Potions and
readings from The Tales once it's released at midnight and much more!"

Other UK Borders holding midnight release parties include: Dundee, Scotland, Glasgow-Fort, Inverness, Scotland (day party only, plus weekend event), Fort Kinnaird, Scotland (midnight, plus weekend event)

UPDATE: Many Waterstone's stores in the UK are planning DAY RELEASE parties, starting at 8am on December 4 for the release. A full list of those stores is available here. Please note that at Waterstone's you can currently pre-order The Tales of Beedle the Bard at half-price! As of now we do not know of any Midnight parties planned here in the States. If you know of a special release party being planned for Beedle, please leave a comment below and we will update this post.
Thanks so much David of EvannaLynch.net!