Emma Thompson will NOT return as Professor Trelawney for Deathly Hallows films.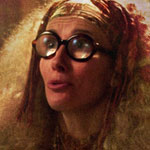 Nov 11, 2008
Uncategorized
Actress Emma Thompson has given a new interview to MTV where she states she will NOT return in her role as Professor Trelawney for the remaining Harry Potter films. Instead she will be making a second Nanny McPhee film, noting "I'm making my own ˜Nanny McPhee' next year. They mean much more to me."
She continued:
"The Harry Potters are great big franchises that are something I'm not
emotionally attached to or necessarily particularly creatively attached
to' Thompson explained. "That's more like doing a turn, whereas the
Nanny McPhees are something I've written. The art is in those films,
they're very handmade, they're something that's very close to me. Those
are the ones I really care about."
Thanks much to MTV for mailing!