"We Are Wizards" Gets Theatrical NYC Run; Joint "Harry, A History"/WAW Event Friday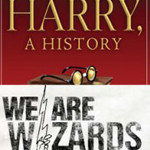 Nov 12, 2008
Uncategorized
This Friday, November 14, we will have a special joint event at the Barnes & Noble in TriBeCa (97 Warren St, NY, click here for a map); it's a discussion and signing of Harry, A History, and a discussion with some of the cast and crew of We Are Wizards in celebration of the documentary's New York theatrical release!
The film is being given a rare run at Cinema Village theater in NYC, so come out to the Barnes & Noble at 6:30 p.m. for the event, then join us for a 9 p.m. showing (the bookstore event is free; you can get your film tickets here) of the film. We'll have information available at the bookstore event about an after-party as well, so we hope to see you there! If you're coming you can also RSVP and meet up with others who are going via Facebook.
You can also WIN tickets to "We Are Wizards" in NYC by entering this contest, courtesy TriBeCaFilm.com!