New Half-Blood Prince Trailer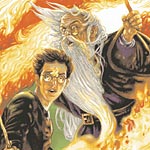 Nov 14, 2008
Uncategorized
WB has sent fan sites the links to a new Half-Blood Trailer, which will be live with Twilight NEXT Friday. Enjoy!
(A special reaction PotterCast is now on our feed; subscribers, please update. You can also watch it with trailer clips at our YouTube channel.)
You can now view this video in our video galleries.
Windows Standard
Large
Medium
Small
Quicktime Standard
Large
Medium
Small
Low
IPod
IPod Version
This trailer features Harry and Dumbledore going on one of their missions; Slugnorn's class, Ron passing out, a return of Pyromaniac Seamus, Ron's "in love" with Romilda scene, Luna in her Spectrespecs, Tom at the orphanage, Harry being called the Chosen One several times, Harry and Dumbledore at the cave, Quidditch, the young Tom Riddle, a smoky Dark Mark, a scene of Death Eater excitement at Hogwarts, a pale and worried-looking Draco, the just-before-kiss for Ginny and Harry, Harry and Hermione talking on top of the Astronomy tower, the fire scene at the cave, "Fight back, you coward!", Snape, Death Eaters destroying a bridge, Harry trapped as Dumbledore faces Snape, and a score that sounds much different than those that have come before.