New Contest for UK residents to Win a Trip to the Beedle the Bard Release Party with JK Rowling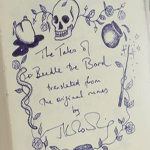 Nov 19, 2008
Uncategorized
The Sun has now launched a new contest for readers in the UK to win a chance to attend the special The Tales of Beedle the Bard release party held by J.K. Rowling next month in Edinburgh, Scotland. According to the paper, children aged between 8 ' 11 years must fill in a postcard
with their name, address, phone number and age, as well as write a few lines on why they would like to meet the Harry Potter author. Five winners will be chosen to attend the release tea party due to be held on December 4 at the National Library of Scotland in Edinburgh, with two runners up winning a signed collector's copy of The Tales of Beedle the Bard.
To enter (UK resident) mail postcard to: The Tales Of Beedle The Bard Tea Party, Sun Features Department,
The Sun, 1 Virginia Street, London E98 1SN. The closing date is November 23,
2008.
Good Luck!
A reminder that The Tales of Beedle the Bard is being published by the Children's High Level group, with proceeds of the sale of the new book by J.K. Rowling to benefit the charity which helps vulnerable children in Eastern Europe.