Possible Filming for "Deathly Hallows" Due in Scottish Highlands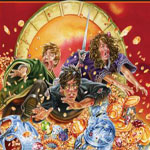 Nov 20, 2008
Uncategorized
Officials from the Harry Potter films have been reported to scouting for locations in the Highlands of Scotland to be used in filming the Harry Potter and the Deathly Hallows films. Lochaber News reports that:
Film executives and location and special effects personnel have just
completed an updating recce of the four picturesque glens which have
featured in all the previous Harry Potter blockbuster…Teams of cinematography experts and production designers visited
Glenfinnan, Glen Etive, Glencoe and Glen Nevis, all Lochaber landmarks
which have already become established in the series.
They were
looking at the autumn and winter changes of the terrain, trees and
vegetation in these areas, and have since been in Yorkshire examining
tracts of moorland to supplement the Highland locations.
The article continues to note:
The West Highland locations have already proved they can lend
themselves to the spooky side of things, and this will be particularly
important with Deathly Hallows because the storyline involves plenty of ghosts, witches and warlocks.
And Highlanders with local knowledge, and guides to provide mountain
safety cover, will be required to ensure that the film crews can access
and operate in remote and difficult filming spots.
It is
understood that Emma Watson, who has starred as Hermione Granger
throughout the Harry Potter series, will be going to university next
year, and this will have a bearing on the early filming.