PotterCast 173: Are You There God? It's Me, Harry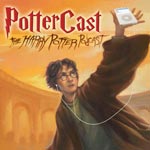 Nov 20, 2008
Uncategorized
PotterCast, our Harry Potter podcast is now online for this week with its 173 edition of Harry Potter news, discussion, and fun. Sue kicks off the show with a round up of the latest Harry Potter news, including video of Tom Felton's appearance on Jack Osbourne Celebrity Adrenaline Junkie, exclusive photos of a Mary Grand Pre art exhibition, Emma Thompson not appearing in the Deathly Hallows films, Beedle the Bard release parties in the UK, J. K. Rowling's piece for a Birthday Book for Prince Charles, and the Harry Potter and the Half-Blood Prince trailer. See the full reaction of the PotterCasters upon seeing the trailer over on our YouTube channel. Also be sure to check out the daily PotterCast Vlogs on the channel as well. The news wraps up with Harry, A History, by our own webmistress Melissa Anelli, debuting at number eighteen on the New York Times Best Sellers List. Melissa, Sue and Frak then go into a new Bit by Bit which goes through Chapter Sixteen of Deathly Hallows and Harry's visit to Godric's Hollow. The show then moves to spoiler-filled Beedle Talk where the stories of Warlock's Hairy Heart and Babbity Rabbity and her Cackling Stump are discussed. This episode wraps up with the reason why John isn't here, talk of the PotterCast vlogs, LeakyCon news, Wizard Rock of the Month EP, and more details on Jingle Spells 2.
To listen, just hit the "Play" button on
the right
side of the
page (–>), or use iTunes, or direct download.
"Are You There God? It's Me, Harry"
More reaction to the new HBP trailer, including Frak's thoughts!
News about LeakyCon and Jingle Spells 2!
Does God exist in the Harry Potter world?
We digest what we know of the Beedle stories Warlock's Hairy Heart and Babbity Rabbity.
What happened to John? Melissa, Sue, and Frak tell you why he missed this week.
RT: 71:23
Producer: John Noe
Editor: Andrew Garner
LeakyCon 2009: A Harry Potter Conference in Boston
"Harry, A History" Website
PotterCast Vlogs
Podcast Alley
Digg
Direct download (30 MB).
Direct download low-bandwidth (8 MB).
Remember you don't need an iPod to listen. Listen easily on iTunes, which you can download and install here, by clicking here to listen, or you can just use the streaming Flash player at PotterCast.com or just on the right side of this page. Discussion of the PotterCast is right here. Enjoy!