Amazon Contest For Possible Chance to Buy Half-Price Collector's Editon of "Beedle the Bard"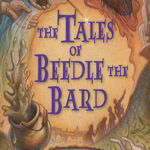 Nov 22, 2008
Uncategorized
Amazon.com has launched a new contest for consumers to vote for special items they would like to purchase at a highly discounted price this holiday shopping season. According to this press release, among the items possibly being included in this special sale will be 1,000 copies of the Collector's edition of The Tales of Beedle the Bard. In addition, the first 35 customers to place an order will win a copy
autographed by J.K. Rowling herself.
Please note that to win a chance to buy the book at half-off the $100 USD price, there is a slightly complicated process that is as follows:
Go to this link and vote on a series of six groups, picking the one item you might like to buy at a hugely discounted price. The last grouping contains the Beedle the Bard book, which is currently losing badly to a great deal on the Kitchenaid Professional Stand Mixer. Vote wisely 😉
On the morning of Thursday, Nov. 27, Thanksgiving day, check your email to see if you have been selected to participate in the "Race to Buy" event, aka the winning products at the discounted price.
Come back on another specified date contained in your email to then race to buy the item (login early before it goes on sale, as they expect demand to be high and items to go early, so the idea is to 'race' against other customers), possibly then purchasing a discounted Collector's Edition of The Tales of Beedle the Bard. Note: According to the FAQ, if the book ends up as a runner-up, it will be made available for $70 (USD) Amazon stresses that while they are pleased to offer this possible sale, all donations to the Children's High Level Group charity will be calculated from the full list price of the book ($100).
Good Luck! As a reminder, The Tales of Beedle the Bard by Harry Potter author J.K. Rowling will be released on December 4, with proceeds to benefit the Children's High Level Group charity.