PotterCast 174: Ballious Repello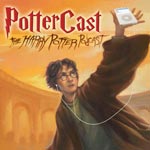 Nov 25, 2008
Uncategorized
The 174th episode of PotterCast, our Harry Potter podcast
is here for you today, ready to give you your super high-energy Harry Potter fix. In the news this week, we have for you information on a new picture of Ginny Weasley from the Half-Blood Prince film, location scouting for Deathly Hallows, the call for LeakyCon Proposals now being open, the upcoming release for Beedle the Bard, the Wizard Rock EP Club, and the Harry Potter Alliance STAND Fast activities. Bit by Bit comes up next with Chapter 17 of Harry Potter and the Deathly Hallows. In this segment, the PotterCasters continue on Harry's journey through Godric's Hollow after finding his parent's house. This is followed by another edition of Beedle Talk, with a discussion of "The Tale of the Three Brothers." The show wraps up with a some upcoming plans for the PotterCaster's YouTube channel and information on how to get your copy of Jingle Spells 2! Do not wait to order, as the limited number of physical copies are going fast. Finally, Melissa gives us an update on Harry, A History being on the New York Times Best Sellers list. To listen, just hit the "Play" button on
the right
side of the
page (–>), or use iTunes, or direct download.
"Ballious Repello"
Do Quidditch players use athletic supporters?
Frak kills the Quartet.
LeakyCon panels from the PotterCasters.
Hurry up and register for LeakyCon 2009 in Boston, Mass.
Have you read the latest Beedle the Bard fan fiction? Neither have we…
Beedle Talk on the Three Brothers.
A lesson on Parking and Standing Zone laws.
Order Jingle Spells 2 now!
RT: 86:23
Producer: John Noe
Editor: Andrew Garner
LeakyCon 2009: A Harry Potter Conference in Boston
"Harry, A History" Website
Jingle Spells 2
PotterCast Vlogs
Podcast Alley
Digg
Direct download (30 MB).
Direct download low-bandwidth (8 MB).
Remember you don't need an iPod to listen. Listen easily on iTunes, which you can download and install here, by clicking here to listen, or you can just use the streaming Flash player at PotterCast.com or just on the right side of this page. Discussion of the PotterCast is right here. Enjoy!