Jingle Spells 2: More than 60 percent gone!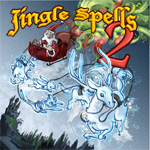 Nov 29, 2008
Uncategorized
Jingle Spells 2, the item being sold in our seventh annual Get A Clue chairty drive, is MORE THAN SIXTY PERCENT SOLD OUT. That means of the 1800 hard copies we are selling, about 1100 are gone. More than 1000 were gone in the first three days. So, if you want the hard copy of this album, you need to act fast.
BUY NOW
Jingle Spells 2 is the sequel to last year's album, Jingle Spells, and is a bigger, better, more festive, more fun, more attitudinous, holiday wizard rock compilation. This time we have 18 songs, from old and new favorites. We said it last year (and you all seemed to agree) so we'll say it again: even if you don't like wizard rock, we are sure you're going to love this. It is all-new music from 18 bands. Buying the album is the only way to hear the music on it. It is a perfect holiday gift for yourself or anyone else you know that loves Harry Potter. It's for a good cause, it's inexpensive – it's a holiday gift and a good deed all rolled into one.
All proceeds benefit Book Aid International and the HP Alliance.
This album is selling for $15, which includes shipping in the United States (there is a $3.60 surcharge for orders outside the U.S.). It is available for preorder NOW at this link, or just right here!
BUY NOW
ALL ORDERS WILL BE SHIPPED OUT IN THE SECOND WEEK OF DECEMBER. E-mails asking where your order is, before it is reasonable to expect your order has shipped, will not be returned. We are ONLY SELLING 1,800 copies.
In Mid-December the album will become available on iTunes; buying a printed edition is the only way to get the original artwork (done by Frak)!
Remember: There is a LIMITED number of copies and fewer physical copies than last year (because of our crunched schedule) so get it now! Every penny of profit will go to aid the efforts of Book Aid to help promote literacy worldwide, and The HP Alliance to help realize the messages of Harry Potter in the real world.
Still not convinced you should order? Give the samples below a try.
Those who ordered copies last year will be getting a special e-mail shortly, so if you aren't on that list, we strongly suggest ordering your copies NOW.
BUY NOW
size="+1″>HAPPY HOLIDAYS, EVERYONE!
Listen to samples!

BUY NOW

color="#990000″>The Remus Lupins, "I Solemnly Swear That I Am Up to Good Cheer"


color="#990000″>Gred and Forge, "Christmastime At School"


color="#990000″>The Whomping Willows, "Let Me Be Your Christmas Tree"


color="#990000″>The Moaning Myrtles, "Nargles in the Mistletoe"


color="#990000″>Tonks and the Aurors, "Candle in the Window"


color="#990000″>Catchlove feat. Danny Dementor, "It's Still Snowing"


color="#990000″>The Parselmouths, "Santa Don't Judge Me"


color="#990000″>The Mudbloods, "An Epic Christmas Tale, Chapter 2: Murder at the Top of the World"


color="#990000″>Minstry of Magic, "12:05 a.m."


color="#990000″>Oliver Boyd and the Remembralls, "It Came Upon A Midnight Clear"


color="#990000″>Justin Finch-Fletchley and the Sugar Quills, "Christmas at the Leaky with You"


color="#990000″>Swish and Flick, "I've Been A Very Naughty Girl This Year"


color="#990000″>Peeved, "A Ministry-Approved Christmas"


color="#990000″>Roonil Wazlib, "The Mandrake's Carol"


color="#990000″>Draco and the Malfoys, "A Very Voldemort Christmas"


color="#990000″>RiddleTM, "Draco's Christmas Wish"


color="#990000″>The Butterbeer Experience, "Christmas Mirror"


color="#990000″>Harry and the Potters, "Snowy Owl"

BUY NOW