David Thewlis Receives Richard Harris Award tonight in London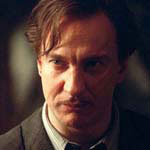 Nov 30, 2008
Uncategorized
Previously we reported actor David Thewlis (Remus Lupin) would be recognized at the British Independent Film Awards. This event was held tonight in London, England where David was presented with the special Richard Harris Award for his outstanding contributions to British film. Congratulations David! Photos of David at the event can be seen here, also in attendance was Potter co-star Ralph Fiennes (Lord Voldemort), photos here. Additional photos can be seen via Getty, who have pics of actor Brendan Gleeson (Mad-eye Moody) also at these awards.
The BBC reports that his "co-star in concentration camp drama The Boy In The Striped Pyjamas,
Vera Farmiga, took home the best actress award." You can see a full list of winners here via Variety.