Tom Felton Talks Malfoy Manor, Draco and his father Lucius Malfoy, and More in New Interview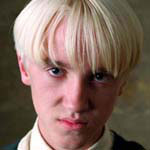 Nov 30, 2008
Uncategorized
GoodPrattle.com let us know about a lengthy new interview they did with Tom Felton, where the actor speaks about scenes in the upcoming Harry Potter and the Half-Blood Prince, Deathly Hallows and the Harry Potter book series. There are several pieces of note in the interview which you can read via this link. Of particular interest is the following on the development of the character of Draco, his relationship with his father Lucius Malfoy, and Draco's torment during the course of Half-Blood Prince. Quotage:
We also get to see that he's not doing what he is doing for Voldemort so much as for his family.
Completely,
yeah. Sure. But it's all in the eyes of his father, isn't it, really?
Normally it's locked away, but now he feels like he's the man of the
house and he needs to sort of represent the Malfoy Manor to the
fullest, really, and, yeah, he's not built from the same stuff as young
Harry is. He's not cut from the same cloth, by any means, and he
certainly can't hold his nerve when he needs to.
Yeah. What sort of relationship do you think he has with his father?
A
very interesting one, actually! I mean, mostly he idolizes his father
to every last degree, and equally, I'm sure, he's terrified of his
father! He's absolutely petrified, and I think most things are done
maybe 20% fully from the fear that he might get another clock around
the ear! I'd be intrigued to hear what Joanne Rowling would have to say
about that.
Yeah. Certainly, he's not the most decent person, but he has a reason, because he's had a very different sort of upbringing.
Sure.
I mean, one thing for sure is he's not the way he is out of chance.
He's well and truly been brought up that way, if that makes sense. In
this film coming up, I think the ultimate goal that David Yates [the
director] and I sat down and spoke earlier on is that we want to make
him to do some of these horrible things and to instigate some terrible
notions but at the same time"for the audience to hate him, as they
always have done, naturally, but also to feel terrifically sorry for
him and to empathize with the situation that he's in, because, in
modern terms, you've been given a gun and told to shoot the Prime
Minister or the President. He's been given a task that, really, he's
not up for.
It's like, "Do this or we'll kill your family." Essentially.
Completely. Completely, and that's a tough time for anyone to be in, especially a child.
Yeah,
absolutely. And with the progression of the films the director's chair
has been passed along to different people, so I'm sure that also
affected not only your portrayal but also the understanding of the role.
Sure,
completely. I mean, one thing that was quite important for me was to
not think of book number seven and not think"he almost goes slightly
back in number seven, back into his old sort of gittish ways"
Almost.
Yeah,
I know there's sort of a lovely sort of odd scene in the Malfoy Manor
in which he chooses not to rat them out"I think he chooses not to
recognize young Harry, which is quite a big thing!
Nor to recognize Hermione.
Yeah,
there's quite a bit of mystery about his character from this one
onward, really! I think that he definitely had a sort of revelation
inside where he doesn't quite know where he is or who he is or what
he's doing. And there's a great scene in this one where he runs into
the bathroom after hearing that he's hurt someone and he breaks down
and he can't handle it any more, which is, again, a really interesting
side to see of someone who's such a slimy git! [laughs]
Speaking on Deathly Hallows, and the Potter phenom as whole, Tom Felton says:
I think that's because you won't ever find another phenomenon that's fully like the books were.
Yeah.
Well, that's the other side of it, is that you'll never find another
story like it, you know what I mean? Even if you do find another chain
of films that goes on for ten years and all the rest of it, you'll
never find"I personally don't think you'll find a set of stories that
generally get better as they go along. I mean, usually that's a cliché,
and usually they make them worse every year, but going along with the
stories, I can only hope that the films are getting better as well. So,
yeah, I am pretty intrigued to see what this one will be like, because
I haven't actually watched any of the stuff while we were filming it. I
mean, I would see bits of it while we were doing some sound dubbing,
but other than that, I'm as much of a virgin to it as you are. So I'm
looking forward to that.
Right.
You know, also J.K. Rowling has created not only a brilliant set of
stories but also this incredible, great, big world into which fans can
just go and be fully engaged.
I know! It's crazy. I think the
fan base is one of the most unique things about the books and about the
films. The one thing that always, always amazes me is the very range of
age. You know, there really isn't "an age" where Harry Potter
is cool"you can be five years old"I've seen little kids coming up to
the premieres and coming up to the studios, and I've seen
78-year-old-men come up to the studios and they've been over the moon
to meet Daniel [Radcliffe] and so forth. It's very bizarre, because
usually there's a quite clear divide as to whether it's sort of a kid's
film or not. We really don't fall into any category. It's actually a
film for everyone, and it seems to bring out a really fanatical side of
moviegoers. I mean, not talking from too much experience, but, of the premieres I've been to, the Harry Potter ones have been the craziest without a doubt. [laughs] Especially in America!
Thanks so much Kate!