USA Today Previews "Tales of Beedle the Bard"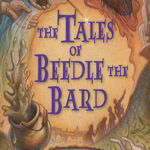 Nov 30, 2008
Uncategorized
The USA Today has a short preview article online tonight, previewing the upcoming new book from J.K. Rowling, The Tales of Beedle the Bard. Arthur Levine, editor of the Scholastic editions of the Harry Potter novels is quoted, remarking on these new tales which were first mentioned in Harry Potter and the Deathly Hallows:
"They feel like folk tales or fairy tales that have been around
forever," says Arthur Levine of Scholastic, Rowling's U.S. publisher.
"They're as good as any Grimm tale that you might have read in your own
childhood. But that's just Rowling's incredible skill."
The piece also mentions that pre-sales for the new book which is due out this Thursday, December 4, are brisk for retailers such as Borders, Barnes and Noble, and Amazon which "expects sales to be strong," the remaining holiday shopping season.