US Borders Stores to Hold "Beedle the Bard" Release Parties December 4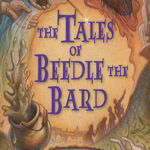 Dec 02, 2008
Uncategorized
Previously we told you there were to be release parties in the UK for the release of The Tales of Beedle the Bard along with a possible shopping event here at some stores in the US. Borders has now issued a press release stating they will be holding special evening parties on December 4 for the release of the new book from J.K. Rowling, along with providing special holiday discount shopping for teachers. The release says that "Borders and Waldenbooks will salute educators for
their tireless work and commitment to their students by giving them 25 percent
off regularly priced books, CDs, DVDs, gifts and stationery and cafe items."
In addition, the statement continues: To celebrate the release of this must-have book for
Harry Potter fans, most Borders and Waldenbooks stores will host release
parties beginning at 6 p.m. on Dec. 4. The events will include trivia games,
arts-and-crafts activities and a discussion of a crucial chapter from "Harry
Potter and the Deathly Hallows" that features one of the fables detailed in
"The Tales of Beedle the Bard." A second release notes, "After reading and
discussing the fable, kids will have their knowledge of the characters,
animals, spells and magical objects in each of the Harry Potter books tested
during the exciting "Harry Potter Challenge" trivia activity. Then, the
creative juices will flow when fans put crayons to paper and draw scenes from
"The Tales of Three Brothers." For those who cannot wait to buy the book,
select Borders stores will stay open later than normal Dec. 3 to accommodate
customers who want to buy the book immediately when it officially goes on sale
just after midnight. To find your local Border store, please click here.
A rep for Borders is quoted as saying: "We could not be more excited to celebrate the release of 'The Tales of
Beedle the Bard' with in-store parties," said Diane Mangan, director of the
Children's category for Borders Group. "Our customers have been awaiting the
release of this book for months and Borders and Waldenbooks are the perfect
place for Harry Potter fans to revisit their passion for the stories that gave
them so much enjoyment — and pick up this great book of fables."