The Tales of Beedle the Bard Now Available, Early Reviews of New Printed Book Now Online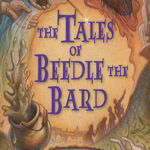 Dec 04, 2008
Uncategorized
Behold, the Bard! The Tales of Beedle the Bard, the new book by Harry Potter author J.K. Rowling has now officially be released! Last night, some fans were able to attend special midnight release parties, such as those in Edinburgh, Scotland. The Scotsman reports that while the parties were not as large as in years past, fans still dressed as their favorite characters and "enjoyed a Hogwarts-style feast as they waited for the launch of The Tales of Beedle the Bard at midnight…Christie Roberts, 21, a student from Cowgate, attended the party at
Borders last night. She and friend, Dinah Russel, 21, who travelled
from Stirling, planned to stay up all night reading. She said:
"I think it's just the really hard core fans here. It's not one of the
actual Harry Potter series, so it's more subdued than last time. It's
for those of us who can't let go. I'm so excited."
Others attended parties in London, as seen in this BBC video now in our galleries. UK paper, the Daily Mail reports that one party had almost 500 people, and many were very excited to be getting the new book of tales that were first mentioned in Harry Potter and the Deathly Hallows.Grayson Walton, 18, from Godalming in Surrey, said: 'There was no
way I was not going to be at the launch. When I heard about it, I moved
heaven and earth to be here.' A reminder that JK Rowling will be holding her tea party event later today starting at 4pm, where she "will read passages from The Tales of Beedle the Bard, at Edinburgh's Parliament Hall." Many parties are planned for this afternoon, with others being held this weekend. A reminder too, that TLC and PotterCast will also be holding a release party event tomorrow at the Books of Wonder store in NYC, hope to see you there!
While Amazon posted their summaries last year, several early reviews of the new printed version of book are now online. There is one at the end of the The Dail Mail article, with the AP has a broader review, saying:
"If anything, the new book shows us Rowling hasn't lost her
touch since finishing her series. It's all here " cleverly written
stories, little details that add to the enjoyment of readers who spot
them, deeper points about the choices people make and their
consequences. The yarns are ostensibly meant to be read by wizard
children, so they're short, but they don't lack for action, or in some
cases, rather gruesome imagery and some violence. Apparently wizard
children are a hardy bunch."
Finally, The Telegraph has a more detailed review, including some of the new material from Dumbledore, who makes notes that appear throughout the entire book of tales.
"Those who know their Harry Potter will turn straight
to the notes of the final tale, "The Tale of the Three Brothers".
Dumbledore mentions that the legend of three brothers who cheated Death
and were rewarded with an unbeatable wand, a stone that brings the dead
to life and an Invisibility Cloak, might have an element of truth in
it. At this point all Potter fans will be shouting out loudly in
response. (Note for parents: these tales hint at the ending of the
Potter books, but don't actually give it away.)
This short collection would be unremarkable were
it not for the body of work that lies behind it. There is an element of
padding to make it a respectable length and it will barely satisfy the
Potter fanatics for more than half-an-hour. Still there are some nice
touches and all profits go to charity, which fits with the generous
impulse of the stories."