Beedle the Bard, Vampire Slayer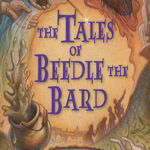 Dec 10, 2008
Uncategorized
Beedle the Bard has a new role of late, that of vampire slayer…well of sorts. The USA Today is reporting that The Tales of Beedle the Bard have taken over the number one spot on their Best-Selling book list from the Twilight series by Stephanie Meyer. The popular series about the life and loves of the vampire family the Cullens do remain on the list, as "Twilight, New Moon, Eclipse and Breaking Dawn " will be Nos. 2, 3, 4 and 5 on Thursday."
The article notes:
Rowling's last book, Harry Potter and the Deathly Hallows,
was published last year. Her books have not been on the best-seller
list since February but have spent 70 weeks at No. 1 on the list since
1999…"It's probably safe to say that they are drawing
people into stores," says Meg Smith of the American Booksellers
Association, the trade group for independent booksellers, who have had
success with Meyer's and Rowling's books.
"It helps the whole publishing industry if any
publisher has a big hit," Tingley says. "It was great for us when Harry
Potter was out there. We hope (Meyer's success) will be good for
everybody, too."

On a related note, TLC Reader Roonwit writes that the Collector's Editions of Beedle have sold out both in the UK, and Canada. Quotage from Amazon UK: "Sold Out! Thanks to the incredible enthusiasm of Harry Potter fans, we
have sold out of all copies of The Tales of Beedle the Bard,
Collector's Edition available in the United Kingdom. To ensure that we
have enough replacement copies (for example, for books damaged during
shipping), we will be holding a limited number of copies in reserve. If
you missed out on ordering your copy of the Collector's Edition, it is
possible that a small number of copies will become available."