Video Online of Mary GrandPre Exhibit in Iowa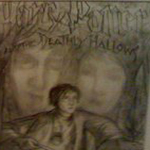 Dec 10, 2008
Uncategorized
Previously we told you there was an exhibit currently ongoing in Iowa featuring the art of Mary GrandPre, including pieces she created for the covers and chapter art found in the US Scholastic editions of the Harry Potter novels by J.K. Rowling. There is now new video available here in our galleries, where the curator of the Cedar Rapids Museum of Art gives us a glimpse and new details on some of the featured pieces, including the original pencil sketch of the cover for Harry Potter and the Deathly Hallows. The Daily Iowan reports: "We actually did shows about all of her career and the process at the
same time," said museum curator Sean Ulmer about GrandPré, whose career
began in the '80s, but she hasn't exhibited for a few years because of
her busy schedule.
Readers will also recall we first showed you some photos from the exhibit, which includes new pieces all available here in our image galleries.
The Harry Potter and Beyond exhibit is ongoing at the Cedar Rapids Museum of Art now until February 1, 2009. Thanks much, David!