Golden Globe Nominations for Thompson, Gleeson, and Fiennes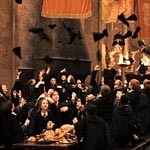 Dec 11, 2008
Uncategorized
The nominations for the upcoming Golden Globe Awards were announced today, and a number of actors from the Harry Potter films were among those honored for their work in various film and television projects. Actress Emma Thompson (Professor Trelawney) has been nominated in the category of Best Performance by an Actress in a Motion Picture – Comedy or Musical for her role in "Last Chance Harvey." The category of Best Performance by an Actor in a Motion Picture also included a nomination for actor Brendan Gleeson (Mad-Eye Moody) for his role in the film "In Bruges." Additionally, actor Ralph Fiennes (Lord Voldemort) has been nominated in two categories this year. First, for his role in "The Dutchess" in the Best Performance by a Supporting Actor in a Motion Picture, and also in the Best Performance by an Actor in a Mini-Series or Motion Picture Made for Television for his performance in "Bernard and Doris."
Brendan Gleeson, who commented on his first ever Golden Globe nomination in an interview with the BBC, noted his surprise by saying:

"It's a matter of total mystery to me how all of this happens… but it's absolutely fantastic that the film has a life."
The Golden Globe awards are slated to be handed out in Los Angeles, California on January 11, 2009 at the Beverly Hilton Hotel. Many congratulations to all!
Thanks Wendy.