Liner Notes: Updates on Wrockstock, UK Yule Ball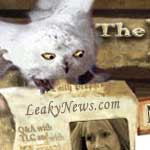 Dec 12, 2008
Uncategorized
There are a couple of wizarding rock events to update you on today. First: Wrockstock the Third, a wizard rock festival, will be held November 6- November 9, 2009 in Potosi, Missouri. As this is always a popular event, early bird passes have now been made available at a $25 discount off the regular price. For additional information on purchasing these passes, hotel reservations and more, click here.
Calling all wizard rock fans in the UK! Have you made plans for the weekend yet? If not, check out the Yule Ball that is due to be held tomorrow, Saturday December 13th at the Kensington Central Library, London, England. The event starts at 7pm, with RiddleTM, Siriusly Hazza P, The Black Sisters and Romilda Vane and the
Chocolate Cauldrons set to perform. For more information, check out the Facebook group for the event, here.