PotterCast 177: Internet Peoples!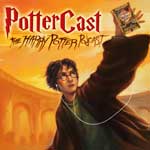 Dec 14, 2008
Uncategorized
Tonight we have for you the 177th episode of PotterCast, our Harry Potter podcast, for your audible enjoyment. Episode 177 marks the first edition of PotterCast recorded live before a live internet audience. This week, the long awaited Acting Troupe makes its first appearance on the show with the inaugural installment of our newest addition to the show. Sue starts off the show with a rundown of the latest in Harry Potter news with regarding Alan Rickman (Snape) filming for Deathly Hallows, new set visit contests from the WB, ABC Family clips, Beedle the Bard Movie rumors, and further sales figures for the Tales of Beedle the Bard book. We also take a number of calls from the live listeners during the news who comment on the abundance of Beedle the Bard news. Canon Conclundrums is up next with a discussion on the importance on wands from the "Tale of the Three Brothers" story in The Tales of Beedle the Bard. Episode One of the PotterCast Acting Troupe then premieres with "Albus Potter and the Founder's Fountain" starring a number of familiar characters from the Harry Potter series. This episode sets out the story of the next generation as they make their way to Hogwarts for the first time. The show wraps up with the latest on Jingle Spells 2, LeakyCon 2009, the PotterCast Vlogs, and so much more. To listen, just hit the "Play" button on
the right
side of the
page (–>), or use iTunes, or direct download.
"Internet Peoples"
"Deathly Hallows" Filming for Alan Rickman
Beedle The Bard: The Movie
Internet Peoples!
More Wandlore!
Habit Forming Wands
Acting Troupe: Albus Potter and the Founder's Fountain.
Jingle Spells 2 is on the way!
Harry, A History ' 4 week on the New York Times Best Seller's List.
Register for LeakyCon 2009 now!
RT: 87:11
Producer: John Noe
Editor: Jeff Gregory
Contributing Editors:
Michael Beckett
Briana Roop
Jake Neuman
Rudi Gerber
Katlin Menzie
Jeremiah Blu3tick
Jaime Medeya
Jeremy Thomas
Armin Vollstedt
We had some technical difficulties beyond our editors' control- please excuse some stray static and echos.
LeakyCon 2009: A Harry Potter Conference in Boston
"Harry, A History" Website
Jingle Spells 2
PotterCast Vlogs
Podcast Alley
Digg
Direct download (37 MB).
Direct download low-bandwidth (9 MB).
Remember you don't need an iPod to listen. Listen easily on iTunes, which you can download and install here, by clicking here to listen, or you can just use the streaming Flash player at PotterCast.com or just on the right side of this page. Discussion of the PotterCast is right here. Enjoy!