Video of Dan Radcliffe at Gypsy of the Year Broadway Charity Event Online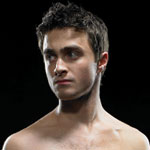 Dec 14, 2008
Uncategorized
As TLC reported late last week, actor Dan Radcliffe (Harry Potter) was among the many Broadway actors to take part in the 20th Annual Gypsy of the Year Event, benefiting the Broadway Cares/Equity Fights AIDS Charity. Video of from the event is now online and features the young actor answering a few questions about his first performance in the annual event. In this short clip, Mr. Radcliffe discuses the original song he penned for the performance, along with the continued fund raising offers his play Equus has participated in for the cause. Video clips include Mr. Radcliffe's stage performance and his receiving the honor for highest fund raising Broadway production of the year. The video clip can be viewed via this link.
Readers will remember that the play Equus contributed a total of $203,746 towards the grand total of $3,061,148 the Broadway Cares/Equity Fights AIDS Charity raised this at the event.
Thanks to our own Jamie for mailing!