Emma Watson Guest on BBC Radio, More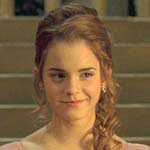 Dec 16, 2008
Uncategorized
Thanks to Sarah for the heads up that actress Emma Watson (Hermione Granger) was a guest on the BBC1 radio, appearing on the Edith Bowman show in the UK. During the interview, which you can listen to again via this link, (thanks Alice!) Emma said that she has indeed applied to several universities here in the US, and will be attending school as well as working on Harry Potter and the Deathly Hallows. Besides discussing her new film The Tale of Despereaux, Emma dispelled rumors that she is to be the new face of Chanel. She also revealed she enjoys Kings of Leon and Razorlight music, plus confessed as her guilty pleasure, she listens to Britney Spear's latest song Piece of Me all the time. Finally, during a quick round question and answer type of session, Emma chose Dan over Rupert, because she joked Rupert would handle the news better.
On a related note, a new video interview with Emma Watson is online via the Telegraph.
Thanks Sarah and Alice!