RoundUp of HBP Set Reports Previews: More on Harry and the Waitress, Quidditch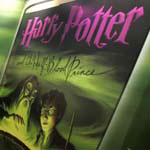 Dec 16, 2008
Uncategorized
In addition to the Harry Potter and the Half-Blood Prince Set Report preview posted by TLC and other Potter fan sites, a few more have now appeared online that give some additional quotes and insights of the sixth Harry Potter film. Of interest is more on a scene that was widely reported on several months ago, regarding Harry Potter flirting with a waitress. Rotten Tomatoes reports on this, noting this creative new addition to the plot came from the mind of screenwriter Steven Kloves. Director David Yates elaborates:
"Steve came up with this notion that, after Order of the Phoenix,
Harry's in this quite intense, dark place and he's riding the trains to
free his brain a wee bit and he meets this really attractive waitress
who he really likes," he told us. "You immediately set up the notion
that suddenly these characters are a bit more aware of the opposite
sex. I thought it was a really charming, lovely idea."
Sci-Fi Wire also posted their preview that contains new information about Ron Weasley (Rupert Grint) and Quidditch. Quotage: We also observed the filming of a scene in the Great Hall, which is
filled with Hogwarts students at breakfast (big platters of sausages,
racks of toast). It's the day of Ron's (Rupert Grint) big Quidditch
match, and he's nervous as heck. Ron enters the hall, kitted out in
full Quidditch gear.
Students call out encouragement: "Good luck, eh, Ron?" "Countin' on you, Ron!" "I've got two galleons on Gryffindor!"
The camera, on a crane, tracks Ron as he walks into the hall
and down the central aisle. He encounters a towering student; they
stop, do that left-right dance. Ron edges around him, then emits a big
sigh. Not happy.
The article also goes on to have more from actor Dan Radcliffe on the developing romance between his character of Harry Potter and Ginny Weasley, played by Bonnie Wright. "Yes, I've got everything with Ginny, which … has been fun. It's
good, fun scenes, and hopefully that'll come across on screen," he
says. He adds: "It's slightly odd, though, with Bonnie, because when
Katie [Leung] came in to play Cho on the fourth film, it was very much
the case when she came in, we always knew she was going to be as a love
interest. Whereas, of course, when I first met Bonnie, she was just
another character; she was, I think, 9-10 years old when I first met
her, and so it's very strange. I've sort of grown up with Bonnie, and
now suddenly having to play love interest scenes is very–it's kind of
odd."
Thanks much Joe for emailing!