Emma Watson Talks Acting, the Future, and Harry/Hermione in New Interview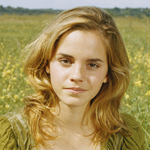 Dec 18, 2008
Uncategorized
A new interview with Emma Watson (Hermione Granger) is online this evening which features the young actress answering fourteen questions from MovieFone.com. Miss Watson, who is currently promoting her latest film, The Tales of Despereaux, spoke on a number of subjects during this interview including her experience working on an animated film, her Harry Potter co-stars Dan Radcliffe (Harry Potter) and Robert Pattinson (Cedric Diggory), life in the public eye, and about the relationship between the characters of Harry and Hermione. When asked if she was disappointed a different relationship never developed between the two characters, Miss Watson notes that she felt is was "always obvious" that Harry and Hermione shared a pure friendship, saying in full:
No … I mean, to me it was always obvious that their relationship was purely friends. It always felt to me that she was very mothering towards him. It just wouldn't be right. And I think that Ron and Hermione are so perfect for each other that I'm not disappointed. [Laughs] It's meant to be.
The interview also features talk of Goblet of Fire costar Robert Pattinson, who she notes "must be over the moon" about the recent Twilight success, and Dan Radcliffe and Rupert Grint (Ron Weasley) who all continue to keep in touch between Potter films. Finally, discussion turns to The Tales of Despereaux and her experience making this film. In regards to any surprises she experienced in making an animated film, she relates:
It's so rewarding to be a part of — I mean, this may just apply to 'Despereaux,' I don't know — but it's incredible to be a character that is being created from animation, and to be involved in that way, and then go sit down in a theater and see something that is almost a complete surprise to you, in the way that it looks and … it was amazing going to see it. I was just so happy with it — I'm proud of it. To do so little and to produce something so amazing is quite incredible. It's very liberating, in a way, not to be worrying about your appearance, and just focusing on the voice.
The full interview can be read right here.
Thanks Andie.