David Heyman on Deathly Hallows Split: "An Emotional and Very Truthful" Break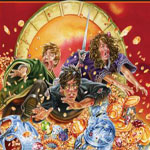 Dec 19, 2008
Uncategorized
Harry Potter producer David Heyman has given a new video interview where he comments on the two scripts and breaking point for the upcoming Harry Potter and the Deathly Hallows. Talking to Collider.com who let us know of their interview which you can see here, David Heyman noted he had just been in London discussing the scripts for DH part one and part two with director David Yates and screenwriter Steve Kloves. When asked about the breaking or ending point of movie one, Mr. Heyman said it wont necessarily be an action- packed moment but "an emotional and very truthful" point that fans will be happy with.
The Potter producer also makes some very positive comments on the sixth film, Harry Potter and the Half-Blood Prince noting it is finished at this point, and has a running time of about 2 and a half hours.
Thanks so much Steve!