Jason Isaacs Talks Deathly Hallows, Lucius "Half-Blood Prince" Cameo, Politics, "Good" and More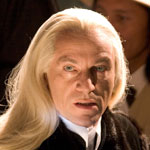 Dec 30, 2008
Uncategorized
Aintitcool.com has released a new, and very lengthy interview with actor Jason Isaacs. In this very indepth piece, Jason confirms again that he has a very small cameo as Lucius Malfoy in the upcoming Harry Potter and the Half-Blood Prince ("a moving painting for a frame"). In this wide ranging, frank and often very engaging interview with this gracious actor, Jason Isaacs also comments on his past roles such as Tavington in the Mel Gibson film The Patriot, politics, working with Viggo Mortensen on his new film Good, remarking how he also enjoys fan sites and checking on the internet. Harry Potter is of course a topic, and Jason discusses his return as Lucius for the Deathly Hallows films. Full remarks on Potter as follows:
And then HARRY POTTER, it's been such an enormous part of my
life for years now, and almost everything else I do, I knock myself out
to try and make things real–I research them, I over-research them. I
steep myself in it and torture myself at night trying to make something
interesting and believable and human. But then you suddenly get handed
a wand and full-length velvet cape, and you're sharing scenes with some
of the biggest and best scene stealers who have ever lived. You really
have to hit the ground running. To give that much joy to so many people
and to have such a laugh doing it feels like an embarrassment of riches.
color="blue">Capone: I know that Lucius is not in the sixth book, but I heard you might still make an appearance in THE HALF-BLOOD PRINCE.
JI: I'm not in the sixth book, but I might be a moving painting for
a frame. I'm not in the film essentially. Luckily they let me come and
say hello to everyone for a day and put my costume on, but essentially
I'm not in the film. Number Seven and Number Eight, no one has read the
script yet. I've seen the book; I know I'm in the book. I would hope
given they are making two films of it, all of my bits will make it in
the movie. I wish they'd make 10 films out of it, are you kidding?
First of all, here I am in Chicago, I'm shooting in Rhode Island, I'm
off to Morocco, I very rarely get to sleep in my own bed and take my
kids to school. So one of the great things about HARRY POTTER is that I
get to live in England. Apart from that, who would not want to go and
do that. Just to set in the makeup chair and look to my left and see
Michael Gambon, look to my right and see Maggie Smith, or sit and hang
out with Gary Oldman talking magic. I keep pinching myself.
I've been asked before, do you resent the fact that you're best
known for that role. What a ridiculous question. I love the work on a
lot of the jobs I do, particularly that one. Why would I mind? I don't
even care about being known for anything. Most think I aspire to
disappear into, but with HARRY POTTER, if you tell a kid you're in it,
or even their parents, they light up. You can actually give a thrill to
someone just by doing nothing. For a lazy person like me, that's a real
treat.
Mild language caution to parents of younger children. Thanks so much to AintitCool, and to George!