PotterCast 179: Best of 2008!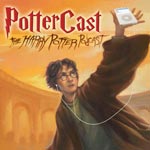 Dec 31, 2008
Uncategorized
It's that time once again to take a walk down memory lane with the PotterCasters, as they reminisce about 2008 and all that this past year had to offer. The 179th episode of PotterCast, our Harry Potter podcast,
beings with a look back at some of the biggest and favorite news stories of 2008, including the release of The Tales of Beedle the Bard, the almost release of Harry Potter and the Half-Blood Prince, Dan Radcliffe debuting on Broadway in Equus, the prequel card, the release of Harry, A History, LeakyCon 2009, and much more. We then go through some of your favorite PotterCast moments from 2008. Join us for this look back at the past year and count down to 2009! To listen, just
hit the "Play" button on
the right
side of the
page (–>), or use iTunes, or direct download.
"Best of 2008!"
The Quartet reminisce about the previous year in the Potter fandom and PotterCast, each with their own favorite moments!
Fan favorite moments fill the rest of the show with the best of 2008 clips from the show!
RT: 132:05
Producer: John Noe
Editor: Armin Vollstedt
Contributing Editors:
Michael Beckett
Kaitlin Menzie
Briana Roop
Andrew Garner
LeakyCon 2009: A Harry Potter Conference in Boston
"Harry, A History" Website
Jingle Spells 2
PotterCast Vlogs
Podcast Alley
Digg
Direct download (53 MB).
Direct download low-bandwidth (18 MB).
Remember you don't need an iPod to listen. Listen easily on iTunes, which you can download and install here, by clicking here to listen, or you can just use the streaming Flash player at PotterCast.com or just on the right side of this page. Discussion of the PotterCast is right here. Enjoy!