Report and Photos from JK Rowling's Beedle the Bard Release Party in Scotland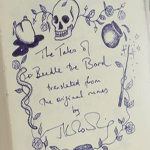 Dec 04, 2008
Uncategorized
The first images and reports from the special party held in Edinburgh, Scotland by author J.K. Rowling for the release of The Tales of Beedle the Bard are now online. You can see early images here via Getty, while Reuters has some details from a question and answer session at the event. Jo said she was afraid of spiders, just like the character of Ron Weasley. Jo said: "What's funny is, as you probably know if you've read Harry Potter, I
gave Ron that fear. He's terrified of spiders, and Rupert Grint, who
plays Ron in the films, is absolutely petrified of spiders.
"I feel so sorry for him because I kept putting Ron in these situations where he had to encounter them."
Jo also noted the prompting behind the decision to publish the Beedle tales was brought about by fans.
The idea actually came from you, by which I mean Harry Potter fans,"
Rowling told around 200 primary school children gathered at Edinburgh's
Parliament Hall for a tea party that officially launched Beedle the
Bard.
"There was quite a lot of high feeling from Harry Potter fans that
only someone who had two million pounds could afford to read the book.
I thought 'fair point', so I thought 'I'll publish it and then the
charity can have that money too'."
Update: A new report is now online, from a fan who was in Edinburgh at the time of the event, and spoke to a few who were able to attend the release party who noted it was fantastic" and "a whole lot of fun." Christine Roberts writes via MuggleNet that Harry Potter cast members were at the party, including Matthew Lewis (Neville), Devon Murray (Seamus), and Evanna Lynch (Luna Lovegood)