Official: "Deathly Hallows" Part One Due November 19, 2010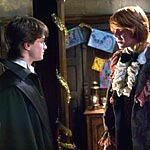 Apr 25, 2008
Uncategorized
As readers will recall, last month we told you that Harry Potter and the Deathly Hallows would be made in two films, with the LA Times stating the first of the films was due out in November of 2010. Thanks to Coming Soon who let us know they can now report an exact date for the release of the first of these films: November 19, 2010.UPDATE: This date has also been officially confirmed to us by Warner Bros. While no date for the second of the "Deathly Hallows" films is yet available, the LA Times previously stated May, 2011, and in their official press release, WB said to look for the film in Summer, 2011.
A reminder that both Harry Potter and the Deathly Hallows films will be directed by David Yates, with Steve Kloves as screenwriter , David Heyman producing, and will star Dan Radcliffe, Rupert Grint and Emma Watson among others.
Thanks to Coming Soon and WB!