Entire Text, Video and Audio of J.K. Rowling Harvard Commencement Speech Now Online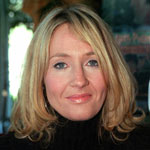 Jun 05, 2008
Uncategorized
"We do not need magic to change the world, we carry all the power we need inside ourselves already: we have the power to imagine better. "
So said Harry Potter author J.K. Rowling today as she delivered a moving commencement speech at Harvard University today, focusing on failure and the power of imagination. You can read the entire text of the speech via this link, with an audio version of the speech onine as well. Update: We now have the video of the entire speech here in our galleries.
In an inspiring speech where she reflected back on her own graduation, her early failures and struggles as a single mother before achieving success with the Harry Potter series, J.K. Rowling noted that "Poverty entails fear, and stress, and sometimes depression; it means a thousand petty humiliations and hardships. Climbing out of poverty by your own efforts, that is indeed something on which to pride yourself, but poverty itself is romanticised only by fools. What I feared most for myself at your age was not poverty, but failure. "
…
"However, the fact that you are graduating from Harvard suggests that you are not very well-acquainted with failure. You might be driven by a fear of failure quite as much as a desire for success. Indeed, your conception of failure might not be too far from the average person's idea of success, so high have you already flown academically.
Ultimately, we all have to decide for ourselves what constitutes failure, but the world is quite eager to give you a set of criteria if you let it. So I think it fair to say that by any conventional measure, a mere seven years after my graduation day, I had failed on an epic scale. An exceptionally short-lived marriage had imploded, and I was jobless, a lone parent, and as poor as it is possible to be in modern Britain, without being homeless. The fears my parents had had for me, and that I had had for myself, had both come to pass, and by every usual standard, I was the biggest failure I knew. "
You might never fail on the scale I did, but some failure in life is inevitable. It is impossible to live without failing at something, unless you live so cautiously that you might as well not have lived at all – in which case, you fail by default. Failure gave me an inner security that I had never attained by passing examinations. Failure taught me things about myself that I could have learned no other way. I discovered that I had a strong will, and more discipline than I had suspected; I also found out that I had friends whose value was truly above rubies.
The knowledge that you have emerged wiser and stronger from setbacks means that you are, ever after, secure in your ability to survive. You will never truly know yourself, or the strength of your relationships, until both have been tested by adversity. Such knowledge is a true gift, for all that it is painfully won, and it has been worth more to me than any qualification I ever earned."
Jo continued on to note that post-graduation, working for Amnesty International was "one of the greatest formative experiences of my life" and "it informed much of what I subsequently wrote in those books. " She recalled one powerful incident as she reflected saying "I shall never forget the African torture victim, a young man no older than I was at the time, who had become mentally ill after all he had endured in his homeland. He trembled uncontrollably as he spoke into a video camera about the brutality inflicted upon him. He was a foot taller than I was, and seemed as fragile as a child. I was given the job of escorting him to the Underground Station afterwards, and this man whose life had been shattered by cruelty took my hand with exquisite courtesy, and wished me future happiness.
And as long as I live I shall remember walking along an empty corridor and suddenly hearing, from behind a closed door, a scream of pain and horror such as I have never heard since. The door opened, and the researcher poked out her head and told me to run and make a hot drink for the young man sitting with her. She had just given him the news that in retaliation for his own outspokenness against his country's regime, his mother had been seized and executed."
J.K. Rowling then went on to emphasize how important imagination is in overcoming failures horrors like the story she recalled and how it can impact the graduates she was addressing. Unlike any other creature on this planet, humans can learn and understand, without having experienced. They can think themselves into other people's minds, imagine themselves into other people's places.
Of course, this is a power, like my brand of fictional magic, that is morally neutral. One might use such an ability to manipulate, or control, just as much as to understand or sympathise.
…
I think the willfully unimaginative see more monsters. They are often more afraid. What is more, those who choose not to empathise may enable real monsters. For without ever committing an act of outright evil ourselves, we collude with it, through our own apathy. One of the many things I learned at the end of that Classics corridor down which I ventured at the age of 18, in search of something I could not then define, was this, written by the Greek author Plutarch: What we achieve inwardly will change outer reality.
…
If you choose to use your status and influence to raise your voice on behalf of those who have no voice; if you choose to identify not only with the powerful, but with the powerless; if you retain the ability to imagine yourself into the lives of those who do not have your advantages, then it will not only be your proud families who celebrate your existence, but thousands and millions of people whose reality you have helped transform for the better. We do not need magic to change the world, we carry all the power we need inside ourselves already: we have the power to imagine better.