September Harry Potter Decor Contest Now Online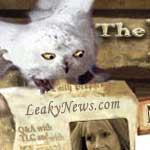 Sep 02, 2008
Uncategorized
Just in time for this new month, our September contest is here and ready to be announced. Many of us have dreamed of having our very own Harry Potter room in our home. Now is your opportunity to make that dream a reality with our newest contest, the Harry Potter Themed Decor Contest, which asks you to photograph a room or area in which you live that is decorated in an unmistakable Harry Potter style. Feel free to decorate with any commercially available Harry Potter merchandise or anything of your own creation. Imagination and creativity rule the day! Whether you'd like to create your very own Potions classroom or Hufflepuff Hallway, we'd love to see your work. This contest runs now through October 12th.
As with all of our contests, everyone ageed 13 or older who is not involved in the judging process may submit one original entry. Those interested may submit up to four photographs of the area they have decorated. Please be sure all photographs are in .jpg, .png, or .gif format format and adhere to our PG13 rating. Also, please include a short description of the area or room depicted in the photo. Email all entries to [email protected] no later than 11:59 pm EST on 12 October 2008, with "HP Decor" in the subject line. More information about this contest can be found right here and in the Contest forum of the Leaky Lounge.
Good luck to all who enter!