Emma Watson Designs Dinner Plate for Charity Auction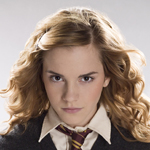 Jan 20, 2009
Uncategorized
Actress Emma Watson (Hermione Granger) has designed a dinner plate to be part of a special charity auction. Along with celebrities such as Hugh Dancy, Andy Serkis and Claire Danes, Emma created designer dinner plates that will be sold at auction to aid the Blue Peter Mission Nutrition campaign. Bidding will begin at t £10 per plate, with the auction to start on Ebay Wednesday January 28 and run for ten days. A press release indicates the funds raised will help "Blue Peter's Mission Nutrition Appeal reach
its target of putting two million meals on plates for children around
the world," as they endeavor to "provide daily meals for children in Bangladesh,
Colombia and South Africa through Save the Children. " We hope to have photos of this plate soon, and will update with more when we can.
On a related note: The official Emma Watson website has been updated with word that the Hermione Granger actress does NOT have an official YouTube channel, and any YouTube account or claim saying it is Emma is indeed a fake.