PotterCast 181: JoBama!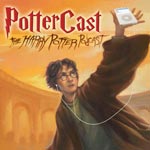 Jan 21, 2009
Uncategorized
PotterCast episode 181 is now here for your listening pleasure. Join us this week on another edition PotterCast, our Harry Potter podcast, recorded live with an online audience for the latest news, discussion, and so much more. As with each episode, it starts with the latest news from our very own Sue, who tells us about new photos of Rupert Grint from the upcoming Cherrybomb, an interview with actor Jim Broadbent (Slughorn), Dan Radcliffe's comments on Harry Potter book purists, the return of Dobby for Deathly Hallows, and false rumors about Jo Rowling attending the Inauguration of President Barack Obama. This segment then leads into a slightly spoiler-filled conversation with our live audience on Harry Potter and the Half-Blood Prince being rated PG. We also have more details on a live LeakyMug at Azkatraz this July in San Francisco, California and a reminder to reserve your place at LeakyCon 2009, our own Harry Potter conference, before registrations run out! We also give a quick update on the next installment of the PotterCast Acting Troupe. Up next, Bit by Bit is here with the next bit of Harry Potter and the Deathly Hallows, where the Quartet discusses Chapter 19, "The Silver Doe." The three weeks of Snape then begins with the first part in our series, where the motivations for Snape's actions, his time at Hogwarts, and whether he really loved Harry are featured. Finally, in the Wrap Up, Melissa, Sue, John, and Frak talk of the Leaky Song (bottom of the main page), John and Frak's PotterCast Vlog questions, The Whomping Willows tour, and more. To listen, just
hit the "Play" button on
the right
side of the
page (–>), or use iTunes, or direct download.
"JoBama!"
A fan interview with someone who's seen a screening of HBP on their thoughts about the PG rating.
LeakyMug at Azkatraz!
JoBama!
Part 1 of our 3 part Snape series.
The bit in the bit by bit when Ron comes back!
Register for LeakyCon 2009 now!
Subscribe to PotterCast's YouTube channel today!
RT: 77:34
Producer: John Noe
Contributing Editors:
Michael Beckett
Andrew Garner
Briana Roop
Armin Vollstedt
LeakyCon 2009: A Harry Potter Conference in Boston
"Harry, A History" Website
Jingle Spells 2
PotterCast Vlogs
Podcast Alley
Digg
Direct download (33 MB).
Direct download low-bandwidth (8 MB).
Remember you don't need an iPod to listen. Listen easily on iTunes, which you can download and install here, by clicking here to listen, or you can just use the streaming Flash player at PotterCast.com or just on the right side of this page. Discussion of the PotterCast is right here. Enjoy!