New Dumbledore and Bellatrix Figures from Tonner Doll Co.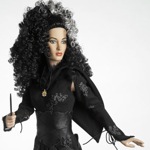 Jan 26, 2009
Uncategorized
The Tonner Doll Company has updated its website for the new year to include two new pieces for their Harry Potter Character Doll Figures collection. The figures of Professor Albus Dumbledore (modeled after actor Richard Harris) and Bellatrix Lestrange (modeled after actress Helena Bonham Carter) are now part of their 2009 collection. Both dolls are 17″ inches tall and feature remarkable craftsmanship "with 14 points of articulation, offering the collector unlimited posing and play possibilities. Crafted of hard plastic and high-quality vinyl, with hand-painted face detail, these are character figures to be played with and enjoyed."
The Albus Dumbledore figure, which can be seen here, is described as:
Sculpted in the likeness of the late Richard Harris as PROFESSOR DUMBLEDORE, this TONNER CHARACTER FIGURE stands approximately 19″ tall and features 14 points of articulation (neck, shoulders, elbows, wrists, chest, hips, knees, and ankles) , is crafted of high quality vinyl & hard plastic, and features high-end details including rooted saran hair and hand-painted face details. DUMBLEDORE comes dressed in an authentic reproduction of one his signature costume from the film. His costume includes under robe in brocade, outer robe in jacquard trimmed in metallic brocade velvet hat and boots; display stand included. Wigged with applied beard and molded mustache with hand-painted facial features.
The description for the Bellatrix Lestrage figure, photo here, is as follows:
BELLATRIX LESTRANGE is 17″ tall and features a new face sculpt of an authorized likeness of actress Helena Bonham-Carter from Warner Bros. Harry Potter and the Order of the Phoenix, with 14 points of articulation (neck, shoulders, elbows, wrists, bust line, hips, knees, and ankles). She features hand painted face details and rooted saran hair. BELLATRIX LESTRANGE comes dressed in her wicked costume from the film with faux leather corset, necklace, hosiery, wand and display stand.
The Dumbledore and Bellatrix Character Figures retail for $249.99 and $189.99, respectively.