Rupert Grint to Take Part in Q & A at Screening of Cherrybomb Premiere in Berlin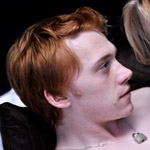 Jan 26, 2009
Uncategorized
As readers may know, Cherrybomb, the new film starring actor Rupert Grint (Ron Weasley) will premiere next month at the Berlin Film Festival. Thanks to our Order partner RupertGrint.net we now know that Rupert will be part of a special Question and Answer session at a screening of the film on Sunday, February 8th. Tickets for the festival go on sale next week on February 2nd, with Cherrybomb due to show several times:
Sunday 8 February at 14:30 Babylon

Monday 9 February at 16:30 Colosseum 1

Sunday 15 February at 11:00 Babylon
Thanks much to Rupert Grint. net!